Theory 2 - Lab Origin
(General)
Lab Origin:

Someone working for an Wuhan lab became infected with a version of RaTG13 then spread it into the community.
Evidence so far:

The outbreak was in Wuhan.

Exhibition of weird name-calling behaviour from the world's top experts when questioned as to whether it may have escaped from a lab.

RaTG13 (aka BtCoV/4991), collected from the Mojiang mine, was held at WIV, as were samples from the infected lungs of miners from the 2012 Mojiang incident.

As were another 15 000 samples of bat viruses - and a veritable zoo of caged passaging animals and/or virus samples from bats to macaques to mice to snakes to pangolin.

WIV/EcoHealth scientists declared that some of the viruses collected were infectious to humans.

WIV/EcoHealth 'passaged' candidate viruses through animals and engineered/recombined viruses through Gain-of-Function experiments to make them more contagious.

WIV/EcoAlliance's handling of bats without PPE, according to photos below (courtesy https://twitter.com/BillyBostickson), looks bloody dangerous.

Lab accidents happen - a lot. SARS-1 has escaped six times. Covid wouldn't even be the first pandemic caused by scientists. This 2010 paper concludes that the origin of the H1N1 pandemic was a lab in China due to an "accidental release of a frozen laboratory strain into the general population" in 1971.

Bio-security at the BSL-4 WIV was lax - it was worse at BSL-2 labs. Even the Global Times reported the "discharge of laboratory materials into the sewer after experiments without a specific biological disposal mechanism" and "chronic loopholes at laboratories".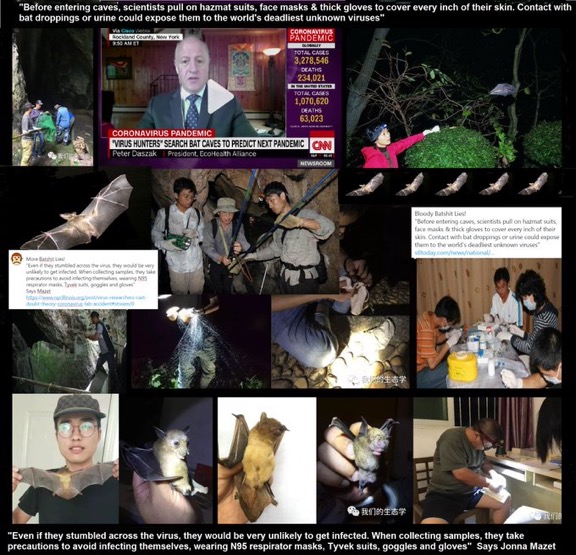 ---