Weather diary page
June 2: Dragon Boat Festival. Sunny and blazing hot.
June 8: Meiyu finally kicked into Taidong. Had about 40mm so far and looks like still plenty to feed through. Front moved south of taiwan and then drifted north again. Took a few days to happen here though places on west coast and central ranges continured getting daily 200mm + falls but couldn't quite make it across the ranges. Front has since tilted slightly anti-clockwise which is directing the left to right flow more across kenting and from there it's feeding up the coast. Temps have been relatively cool last few days which is nice - always good to pinch a few days off summer's brutal sentence. Had Chinese bulbull get very agitated by my presence in the vegie garden - obviously had a nest close by and came up to a couple of metres away to 'ma wo'.
June 8: Things they are a changing quickly and dramatically. Ahhhh... life. Oh, wait, yes, the diary. In Kaohsiung massive rain is moving in. Few people dig this stuff, but this is a very fruitful situation. Meteorologists and weather enthusiasts should now be wondering how long this state (i.e., system, front, etc) will stay over us. In the late 90's we had a system in Pingtung rain for two weeks. It was extremely destructive. It was a strong. steady rain... for two weeks. We should not underestimate Meiyu.
To display an image on this wiki, upload it anywhere and include the URL after the posting. This might turn out to be an interesting Meiyu.
June 10: Interesting situation arose with a massive mei yu when a typhoon formed in the middle of it, just off the south east coast. A 'torrential' rain warning was issued for TD with 100% pop by cwb but none of that really eventuated. Most likely that was due to the typ forming which sucked a lot of the rain into it. Imagine it would be packing catastrophic amounts of rain but luckily it's not likely to make landfall, in fact, it's probably averted what have been a damaging deluge caused by the mei yu alone. Rare situation today with heavy but fairly brief rain (15mm) falling while east remained clear. Had a rule that we only get real rain when the clouds gather from the east. Today was definitely an exception.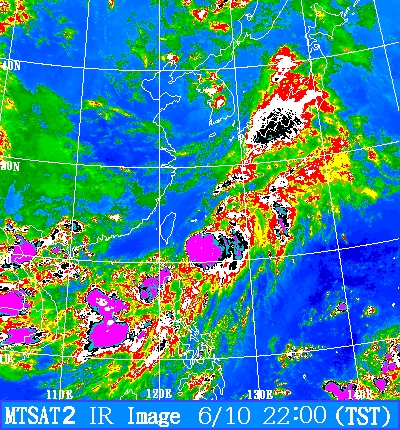 June 11: There is another low forming south of Taiwan. It looks like we may get some heavy rains in the next week. Today we've had fairly constant drizzle and light rain, though the radar and sat pictures looked pretty clear. The stationary front that gave rise to the tropical storm that's just north of us and moving away is off the east coast. Lots of heavy rain in the region.
June 13: Harvested first fruit from summer tomato crop. Asparugus finished. Garden an overgrown mess. Let chickens in to keep weeds under control.
June 14: Hagibis is the first named storm this season to pose a possible threat to us. Hagibis is SW of the southern tip of Taiwan and models are in poor agreement as to its path.
June 14: First and only real mei yu deluge for taidong. Front included embedded typhoon to the south west - i don't know whether that enhanced or impeded it - several days of torrential rain warnings passed without incident and this may have been typh sucking it in. But sat night, having a few drinks at sugar, it started spitting rain, then got a bit heavier, then poured for a good couple of hours. Drinking amidst a deluge seems somehow a familiar feeling here - like de ja vu - only you have been there before. Several times. 115mm in the guage here and higher falls in other places. Suppodedly there was a major landslide in td somehwere. Rain purely an east coast thing. Not as big as the 200+ fall we had near the beginning of mei yu last year, but still one of the biggest rains of the year - waited right up until the last day of the last mei yu front of the season.
June 17: Since then hot, sunny, with big southerlies. No wind warning from cwb, but there should have been - as big as a big dbjf. typhoon somehow skirted the coast of china and re-emerged in the strait and maintained itself and even strenthened again and is heading off to the north east of taiwan. haven't seen that happen before i don't think. often looks like it might happen but rarely does. My fong huang shu didn't flower this year, don't know why.
June 20: Hot
June 23: The dial has well and truly been switched to 'furnace hot' and no relief in sight. Can't see any further rain for june. These are the hard yards right here. Strong, hot southerlies almost every day - dbjf strength and regularity. Seems more than previous years - could be connected to el nino. However, mei yu persists in taipei and ruined my trip to the market - cancelled on both days. Supposed to finish mid-june but front still lingering over north taiwan even today. Only had one fong huang shu flower this year - at about this time.
June 30: Unrelenting heat and no rain. Several chickens have died in the past week due to the heat. Rainfall Total for June: 226 mm, which is right on the ave, though not a drop since the 15th.